If overuse of Instagram is hampering your productivity, it is a wise thing to delete your account permanently. Here we will guide how you can delete the Instagram account from iPhone or PC.
Instagram is one of the most popular social media websites nowadays. We all love the design, content shared and the whole concept. However, we all know that having an Instagram account can also lose a precious free time. Additionally, it also exposes our life to the public. There are a lot of stalkers that can easily see what you are sharing. There are numerous reasons on why it is not safe or good to use Instagram. If you have a strong one and you finally want to sell your iPhone and delete all private data related to it so you'll never have any privacy issues ever again, you may be interested in how to delete Instagram account.
Tip:
When you delete your account, your profile, photos, videos, comments, likes and followers will be permanently removed. If you'd just like to take a break, you can temporarily disable your account instead.



How to delete Instagram account on iPhone permanently
Step 1: Go to "Instagram" on your iPhone and tap on the Profile icon at the bottom of the screen.
Step 2: Click the Settings icon on the Profile page and then scroll down to choose "Help Center".
Step 3: Tap on "Basics" and then choose "Getting Started".
Step 4: Select "Delete Your Account" among the options.
Step 5: Choose "How do I delete my account?" and click the hyperlinked "go to this page".
Step 6: Enter your Instagram account information and choose the reason for which you want to delete your Instagram account.
Step 7: Type in your Instagram password again and click "Permanently deactivate my account" and tap on "OK" to confirm. Then your Instagram account will be removed from your iPhone.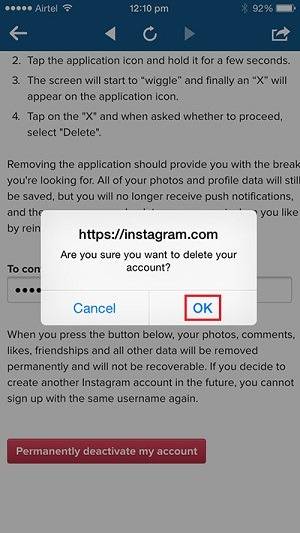 Part 2: How to disable an Instagram account temporarily




Step 1: Go to Instagram.com via a browser.
Step 2: Enter your Instagram account information to log in.
Step 3: Tap on your username and choose "Edit Profile".
Step 4: Click "Temporarily disable my account" and select the reason.
Step 5: Type in your Instagram password again, choose "Temporarily Disable Account" and then click "OK" to confirm.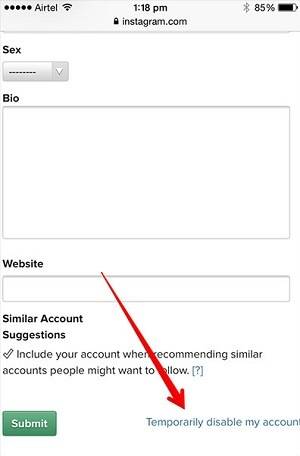 How To permanently delete Instagram account on Web:
Go to the Delete Your Account page. If you're not logged into Instagram on the web, you'll be asked to log in first. You can't delete your account from within the Instagram app.
Select an option from the drop-down menu next to Why are you deleting your account? and re-enter your password. The option to permanently delete your account will only appear after you've selected a reason from the menu.
Click or tap Permanently delete my account.